Cafe&Bar Mermaid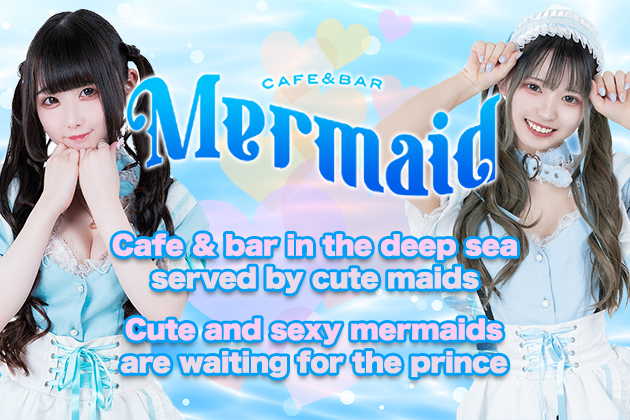 Coupon
If you are visiting for the first time, please
Please say "I saw Tokyo Maid Guide"♪♪
—————————————-
First time set 40 minutes 3,000 yen (excluding tax and service charge)
↓50% OFF (half price)↓
First set 40 minutes 1,500 yen (excluding tax and service charge)
(One order of 1,000 yen or more is required)
*Not applicable to VIP seats
—————————————-
So, let me show you around♪
Please feel free to use it♪

[MAP]

In Akihabara, you suddenly find yourself at the bottom of the sea… a mysterious place connected to the deep sea, Mermaid♪ Go through the entrance door, which opens at 4:00 pm every day, and you'll find yourself in a cafe in the sea where cute maids serve you. & It's a bar♪
Normally, you, the human prince, can't breathe in the Mermaid in the deep sea♪By drinking the all-you-can-drink magic drink, you will be able to breathe even in the water♪First of all, the magic drink. Please choose ♪ Super cute and slightly sexy maids will guide you.
*~[Price system]~*
The pricing is reasonable and clear accounting, so you can spend your time to your heart's content.
<All time/16:00~LAST>
1 set 40 minutes 3,000 yen
(After that, 3,000 yen for every 40 minutes of extension)
All-you-can-drink: beer, shochu, whiskey, soft drinks
*10% service charge and 10% tax will be applied.
*It is an automatic extension system, but if you have a request, we will call you.
Cute mermaids are waiting for you today with the best smiles so that everyone who visits can enjoy the best moment.