Alcoholic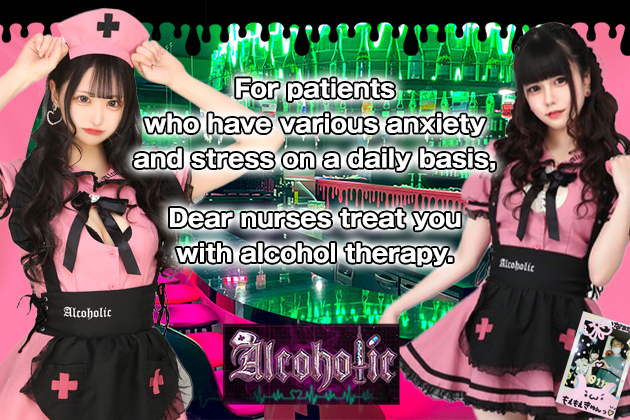 Coupon
If you say you saw us in "Tokyo Maid Guide", you can get the following:
Half price for the first set
(1 order of 1,000 yen or more is required)
One Instant Photo Service
Please feel free to use it♪

[MAP]

This is a hospital!? Cute nurses provide generous nursing care that will make you fainting in agony!
Akihabara's cutest area!
Cafe&Bar Alcoholic opens!
Is it wrong to seek encounters in a hospital?"…here you go…meet the cute nurses…
Alcoholic is a café and bar based on the concept of a "hospital" that has become a hot topic of conversation in Akihabara.
The other side of kawaii.
"Nurse style maid uniform" style is a must see♪
Nonstop fun♪
The "hospital visits" don't stop anymore… ♪
〜Consultation fee〜
[Our hospital's system].
Our currency is 1 yen = 1 point.
The hospital offers all-you-can-drink medications.
The more you drink, the more effective it is.
Auto-extension system
TAX 10%
10% service charge
[All-you-can-drink]
40 min. 3,000 points
Extension 40 min. 3,000 points
※Female patients※
40 min. 1,500 points
Extension 40 min. 1,500 points
[ICU (VIP seats) All-you-can-drink]
For more severely ill patients, we recommend the use of the ICU.
40 min. 5,000 points
Extension 40 min. 5,000 points
All-you-can-drink menu
~ Alcohol ~
・Draft beer
・Lemon Sour
・Pineapple Sour
・Green tea high
・Oolong High
・Jasmine High
・Acerola High
・Rum and coke
・Cassis Orange
・Cassis Oolong
・Kalua Milk
・Fuzzy Navel
・Reggae Punch
・Highball
・Ginger highball
・Coke highball
・Gin & Tonic
・Gin Lime
・Tequila Sunrise
~Soft Drinks
・Orange juice
・Cola
・Grapefruit juice
・Ginger ale
・Acerola juice
・Green tea
・Oolong Tea
・Jasmine tea
※Other oral medications can be provided, please ask the nurse♪
[Medication for the Nurses]
・Soft drinks 500 points
・Alcohol 1,000 points
Let's add a tip for the nurse… ♪
・Wonder drug (shot) 1,500 points
Let's reverse the process and inject the nurse♪
・Cheki 1,000 points